Hoi An is ancient town that is located on the downstream of Thu Bon River, belongs to coastal plain of Quang Nam province, 30 kilometers south of Da Nang. With its ideal location, Hoi An was a Vietnam's largest commercial and busy port in 17th century in Vietnam with many different name like Lam Ap, Faifo, Hoai Pho.
Climate
The climate in Hoi An is mild, typically tropical, warm whole years with its average temperature is 25.6 Celsius. The weather in Hoi An divides into two seasons: dry season and rainy season. From February to May is the best time to visit the town.
History
From the 2nd century to 14th century, Hoi An belongs to Cham Pa Kingdom, named Lam Ap Pho. It was developed port which attracted entrepreneurs from Arab and Persia, China to exchange goods.  According to many old books said that Lam Ap played an important to make the prosperity of Tra Kieu citadel and My Son holy land.
Because of the historical volatility, this land was forgotten in some centuries. From 16th century to 19th century Hoi An ancient town was reborn and thriving in development thanks to water environment, external factors and internal factors. Under Nguyen Hoang Lord, Hoi An became the busiest trade port in South East Asia that attracted many ship from China, Japan, Indian, Thai Land, Portugal, United Kingdom, France locked to trade. At the end of 19th Century, the port was slowdown and disappeared. Instead the role of Hoi An port, the Da Nang Port was established.
During 117 years (1858-1975), Hoi An people fighting bravely to against invasion for independence and unification of Vietnam. On 24thAugust, 2000, Hoi An ancient town was recognized as the World Heritage.
Japanese covered bridge
Hoi An ancient town is an example exception of theravages of time. Enter the ancient town; you will be surprised by isolated world. No noisy sound, no roaring of engine, even no the luxurious store of famous branch, Hoi An settle itself in the serene and ancient beauty.
Fortunately, Hoi An still preserve the unique architecture complex. Hoi An become must – see destination once when you travel in Vietnam. Coming to Hoi An to discover different life or even experience yourself.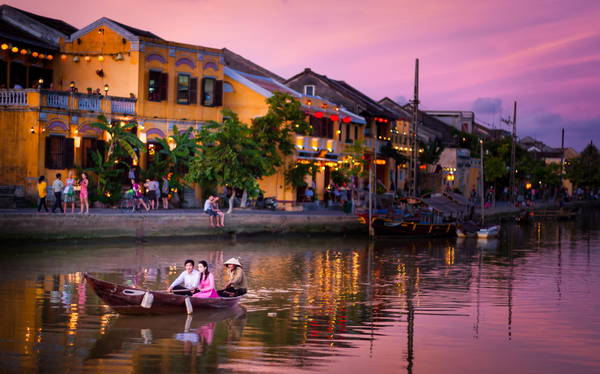 Source: Collected from the Internet.