Searching on the internet for several biking tour from the center of Hanoi to the outskirt Co Loa, I found there are many scheduled tours for tourists, but the price is so high. The cheapest price starts at $40 ~ VND800.000 while actually a bike tour including all meals, water or everything else only costs you max at VND 500.000. So let's see how much an actual biking trip to Co Loa cost.
Rent a bike
First of all, we need to rent a bike to ride. If you already have a bike, so there is no need at all, but if you don't, no worry, we can rent a bike.
In West lake
+ 282 Nghi Tàm, P. Yên Phụ, Q. Tây Hồ, TP.Hà Nội http://bitigee.com/34j

+ THBC http://www.thbc.vn/
In Old Quarter
+ Some hotels in Dinh Liet, Ma May & Luong Van Can street.
Please contact them for specific rental fee & policies.
Or you can ask your hotel, hostel to see if they can lend you a bike for the trip.
The renting fee is about 120.000/a sport bike/ a day, for normal bike, it is around VND 80.000 – 100.000
Preparation:
Water, food and snack if you want to take a rest during the tour and have some snack. If I joined a trip like this, I think I will buy some fruits also to bring along. A map, of course, in case you cannot access 3G somehow to use google map.
Also, don't forget to bring you appropriate clothing/shoes, safety gears, helmets, water/electrolytes, sun screen etc.
The time that you should start the trip
Now it is summer in Hanoi (from May to August or September), so the suggestion is to start the event early in the morning, around 5.30AM to 6AM, because it is very hot from 8AM, you will be covered in sweat and hot and tired. :(.
If you come to Hanoi in the other months of the year (From late September – April), you can start the tour a little bit later because the weather is nicer.
The route:
Depends on your location, let's start to ride the bike to the Long Bien bridge. It is located in the Long Bien district. The map is here http://bitigee.com/3xY
Then, you will ride across the bridge, to the other side and continue riding in the left bank of the red river. This is how it looks:
The road is about 5 to 6km long and continue going straight until you see the Dong Tru bridge which is nearly built
Crossed the Dong Tru bridge, and you are in Dong Anh district, very near Co Loa. Get off the bridge, take the first on the right, then turn left at the T – conjunction. After the turn left, go straight until you see a gas station, turn right. Continue going straight around 700m, and you will see a board on your right, so turn left to the road on your left. The map is attached here for you to refer: Map to CO Loa
Continue biking and you are in Co Loa now. Ask the local for the Coloa Museum, An Duong Vuong King temple. Then, Cycling around the vestige of citadel with the beautiful gardens, rice paddy fields, villages.
For lunch, you can try some local food restaurant around. It is very cheap, around VND 30.000 for a meal/1 person.
If you are lost or if you want to go somewhere, try to ask the local, they are very excited to help you, believe me, they really are.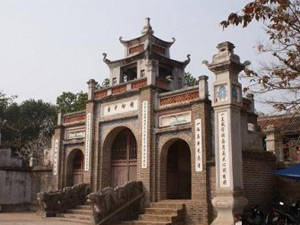 My hometown is really near to Co Loa, so if you need any help or if you want a tour guide, feel free to contact at stunningvietnam@gmail.com. I will join you and show you some good beautiful places here.